The Academy for Excellence in County Government is a certificate training program for county commissioners, council members, county executives, administrators and assistant administrators, chief clerks and assistant chief clerks, solicitors and assistant solicitors, and their equivalents in home rule counties. CCAP and the Academy are committed to training informed and responsible public officials to give Pennsylvania's counties the leadership needed to deal with the challenges of today's county government.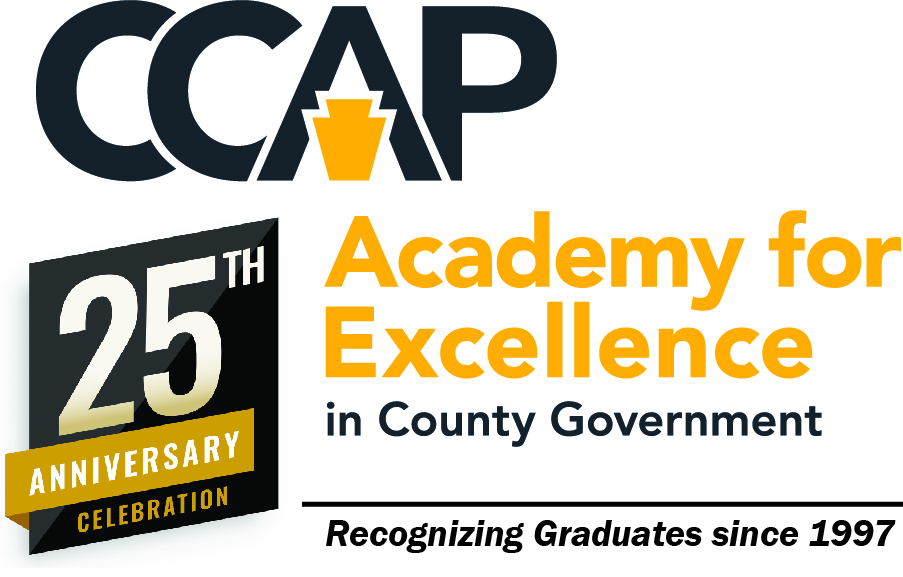 The Academy is celebrating 25 years of service to Pennsylvania counties. Special recognition will occur at several events in 2022 and 2023. Special sponsorship opportunities exist for this milestone celebration. A full Academy Program Sponsorship package will be developed and published for the next cycle (2023-2026).
Thank you 25th Anniversary Sponsors




Examines national, state and regional trends that affect counties. Participants will examine county structure; legal, fiscal and political roles; and sources for information and assistance. Topics vary.
Looks at the structures, functions and responsibilities of counties in Pennsylvania including the formation of counties, structure of counties, the County Code, human services, criminal justice, general administration, boards and commissions, and home rule and optional plans.
Provides guidance for participants to better manage their county's fiscal affairs. Topics vary but may include: revenue sources, budget and accounting, bookkeeping and auditing, and fiscal management techniques.
Looks at personnel issues that counties face including federal and state employment laws, management techniques, collective bargaining and contract administration.
Draws upon experiences of successful leaders to illustrate and teach leadership, management and decision making skills. Topics vary but may include: management and leadership style, handling controversy, meeting management, information management, and effective communications.
Emphasizes legal matters unique to counties, including the relationship of the county with the courts and other agencies, and other legal matters. Includes a discussion of current case law.
Looks at insurance and risk management in counties including loss control, insurance coverages, safety committees, limiting liability, handling claims and defending a lawsuit.
Topics vary but are intended to enrich the participant's communication and interpersonal skills.
Elective Courses
Look for the Academy icon in Conference programs to designate an eligible elective course.
Elective credits will be offered during select CCAP workshops, Insurance Program workshops and at Conference breakouts sessions. Elective course topics include, but are not limited to, these topic areas: human services, media relations, tax and assessment issues, writing skills, business etiquette, time management, public speaking, managing effective meetings, capital improvements, conflict resolution, economic development, budgeting, and more.
Virtual Session Credit
Some virtual events may be recorded and available for credit. To receive credit, the recorded session must be viewed in its entirety and a verification of attendance form submitted. Current courses available to be viewed electronically include:
Academy Achievement Award
The Academy Achievement Award (PDF) is presented to any participant in the program who fulfills the requirements of graduation within a four year period from time of initial enrollment. Recipients receive a monetary reimbursement of their investment in program registration fees at the time of graduation.
The CCAP Academy for Excellence in County Government provides the Academy Achievement Award with Assistance from:
PComp
PA Counties Workers' Compensation Trust - PComp provides workers' compensation coverage for employees of counties and county related entities which includes risk control, claims services and training.
PCoRP
PA Counties Risk Pool - PCoRP provides property, liability, automobile and other related insurance coverages, loss control, claims services and training to Pennsylvania counties and county related entities.