News Date: Wednesday, August 24, 2022
During the 2022 CCAP Annual Conference in Lancaster, seven awards were presented to individuals and organizations for thier commitment to county government.
President's Award

The 2022 President's Awards was presented to Berks County Commissioner Christian Leinbach for his continued support and involvement in CCAP and county activity.
Affiliate of the Year Award
The Affiliate of the Year Award was presented to the Pennsylvania Association of County Administrators of Mental Health and Developmental Skills. The Affiliate of the Year Award for PACA MHDS is intended to recognize the perseverance of these key county administrators and their contributions to the communities they serve, while working very hard to support advocacy efforts to achieve funding goals.
Friend of County Government Award
The Friend of County Government Award was presented to CCAP Managing Director of Insurance Programs, John Sallade for his 34 years of leadership, commitment and service to CCAP.
Technology and Innovation Award

The Technology and Innovation Award was presented to Adams County Chief Information Officer Phillip Walter. He has shepherded a collaboration between County, Court, and Elected offices to embrace technology as a tool towards unifying and creating efficient business processing. For this commitment towards ex-cellence and innovation in technology.
Outstanding Soliciter Award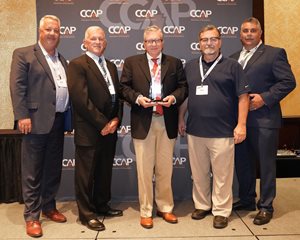 The Outstanding Soliciter Award was presented to Fayette County's Jack Purcell. He has briefed and argued several cases before the Pennsylvania Supreme Court and the United States Courts of Appeals. He has been instrumental in sup-porting his county through a major prison project, rural broadband initiatives, a new county business park, and the creation of a recreational trail.
Outstanding Chief Clerk/Administrator Award
The Outstanding Chief Clerk/Administrator Award was presented to Butler County's Lori Altman. In addition to managing the Human Resources and labor relations for over 600 employees and 5 unions with a total of 8 bargaining units, Lori took on the additional role of Chief Clerk in September of 2018, adding the oversight of Department Directors, the Budget Director, relationships with row office and the courts, and county operations into her duties.
Outstanding Commissioner/Council Member Award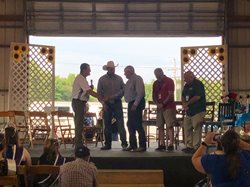 The Commissioner/Council Member of the Year Award was presented to Crawford County Commissioner, Francis Weiderspahn. Commissioner Weiderspahn completed the CCAP Academy for Excellence in County Government, was the first Commissioner to host the Teacher in the Workplace program within his county and has been inducted into his County's Agriculture Hall of Fame.